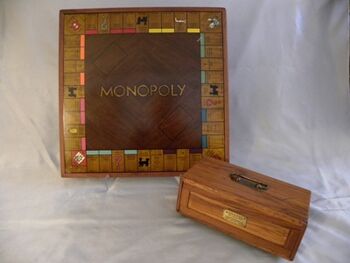 1936 No. 25 Deluxe Edition Monopoly Game.
This is one of the most sought after games by collectors, and for the early games, was the best quality game produced by Parker Brothers . Wooden box with 3 shelves housing the game components. The Board is made of a composite wood material with a Kodachrome overlay set into a wood backing and frame.
Gallery
Ad blocker interference detected!
Wikia is a free-to-use site that makes money from advertising. We have a modified experience for viewers using ad blockers

Wikia is not accessible if you've made further modifications. Remove the custom ad blocker rule(s) and the page will load as expected.