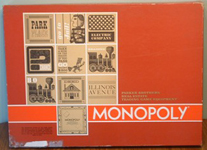 Monopoly: 1964 Edition, published by Parker Brothers in 1964.

This Standard US Edition is notable for the tray in which the components are packed, which permits The Bank to organize bank notes, Title Deeds, Houses and Hotels in an efficient fashion. Examples of this plastic tray can be seen with a stone-like pattern and with a wood-grain pattern, with the wood grain finish being seen most often, although the incidence of each is unknown.
Gallery
Ad blocker interference detected!
Wikia is a free-to-use site that makes money from advertising. We have a modified experience for viewers using ad blockers

Wikia is not accessible if you've made further modifications. Remove the custom ad blocker rule(s) and the page will load as expected.