Special limited oversized Monopoly Edition featuring custom, New York themed 3D artwork by world renowned pop culture artist, Charles Fazzino and produced by custom game maker, Winning Solutions.
Features
2" deep dark hardwood cabinet with tempered glass top
3-Dimensional artwork adorned with over 170 inlaid crystals and foil accents
Six custom-designed New York City-themed pewter MONOPOLY® Tokens
Custom-designed Money and Title Deed, Chance, and Community Chest Cards
Custom-designed Wood houses and Hotels
Wood Banker's Tray
Only 2,000 copies of this limited edition, each set is hand signed and numbered by the artist
Tokens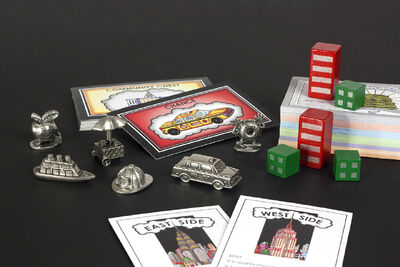 NY Fire Department Helmet
Bagel
Hot Dog Cart
NY Taxicab
Big Apple
Ferry Boat
Gallery
Ad blocker interference detected!
Wikia is a free-to-use site that makes money from advertising. We have a modified experience for viewers using ad blockers

Wikia is not accessible if you've made further modifications. Remove the custom ad blocker rule(s) and the page will load as expected.