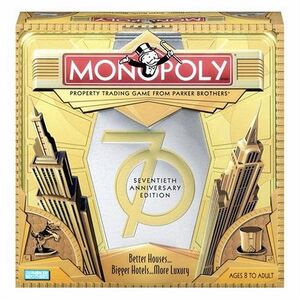 This redesigned Standard US edition was released by Hasbro in 2005 to celebrate the 70th anniversary of the introduction of the classic Monopoly game by Parker Brothers/Hasbro.
Description
This is the 70th Anniversary Edition of Monopoly. It's a beautiful game, enclosed in a tin case. A foil wrapped board, heavy cast metal token, "aged" property cards, 12 unique hotels, and 4 different styles of houses make up this set. There is new art all over the place, with the remnants of the old art we have come to love still there. The tokens are new as well. It all comes together to create a very pleasing set. There is also a booklet included outlining the history of the game.
Gallery
Ad blocker interference detected!
Wikia is a free-to-use site that makes money from advertising. We have a modified experience for viewers using ad blockers

Wikia is not accessible if you've made further modifications. Remove the custom ad blocker rule(s) and the page will load as expected.