Not to be confused with the Adelaide Crows Charity Edition.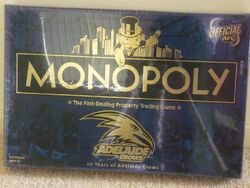 Monopoly: Adelaide Crows 20th Anniversary Edition is an Australian Rules Football-themed version of the classic boardgame featuring the Adelaide Crows AFL® team from Adelaide, South Australia.
Created by Imagination Ventures for the Little Heroes Foundation.
This is a STUB.
If you would like to help simply click the "Edit" button at the top of this page and expand this article.