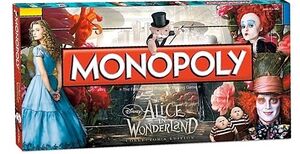 Monopoly: Disney's Alice in Wonderland Collector's Edition is a licensed variant of the classic boardgame published by USAopoly in 2010 to promote and celebrate the release of the eponymous film.
This is a STUB.
If you would like to help simply click the "Edit" button at the top of this page and expand this article.
Ad blocker interference detected!
Wikia is a free-to-use site that makes money from advertising. We have a modified experience for viewers using ad blockers

Wikia is not accessible if you've made further modifications. Remove the custom ad blocker rule(s) and the page will load as expected.