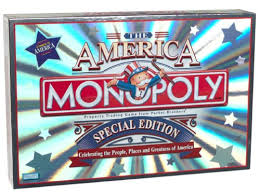 Monopoly: The America Special Edition is a version of the classic boardgame published by Hasbro in 2002.
Publisher's Description
"Life, liberty, and the pursuit of properties. There's nothing more American than the game of Monopoly, except maybe a special America Edition of the world's most popular board game. You can own pieces of American culture and history, learn about American people and places, and move around the board using tokens that are as American as apple pie. Enjoy classic play or experience a new variation with our Corner Squares Game. Answer American challenge questions and you may get a property for free! This is an American Road Trip you don't want to miss."
Gallery
Ad blocker interference detected!
Wikia is a free-to-use site that makes money from advertising. We have a modified experience for viewers using ad blockers

Wikia is not accessible if you've made further modifications. Remove the custom ad blocker rule(s) and the page will load as expected.