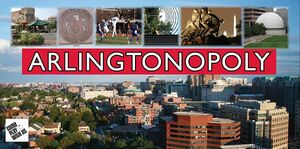 Arlingtonopoly, based on Arlington, Virginia, USA, is a Monopoly edition intended to raise funds for the Arlington Public Library.
Publisher's Description
"Become an arts magnate and buy up the Artisphere, Signature Theater, Studios at TJ Community Center, and the Library. Or maybe you want to start your Arlington Empire by gobbling up the banks? Either way, you'll learn more about your County, and since all proceeds go to the Arlington County Office of Teen Programs, you'll also be supporting a great cause."
Gallery
Ad blocker interference detected!
Wikia is a free-to-use site that makes money from advertising. We have a modified experience for viewers using ad blockers

Wikia is not accessible if you've made further modifications. Remove the custom ad blocker rule(s) and the page will load as expected.