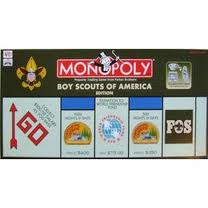 Monopoly: Boy Scouts of America Edition is a variant on the classic boardgame published in 2005 by USAopoly and featuring the Boy Scouts of America.
Publisher's Description
"The world's best-loved board game now celebrates 95 years of strong Scouting values, leadership, and fun! Monopoly®: Boy Scouts of America is played just like the original game, but now features a custom board, cards, money, and pewter playing tokens, including a campaign hat, pocketknife, Scoutmaster cup, Boy Scout sign, flashlight, and Yucca backpack. This officially licensed Monopoly game is great fun for the pack, troop, team, family, and friends. A perfect gift for anyone in Scouting."
Gallery
Ad blocker interference detected!
Wikia is a free-to-use site that makes money from advertising. We have a modified experience for viewers using ad blockers

Wikia is not accessible if you've made further modifications. Remove the custom ad blocker rule(s) and the page will load as expected.