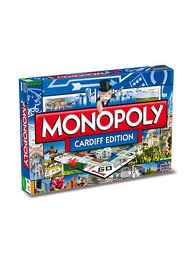 Monopoly: Cardiff Edition is a version of the classic boardgame published in 2009 by Winning Moves Games and featuring the Welsh capital of Cardiff.
Publisher's Description
"The city of Cardiff is bustling with attractions like the Millennium Stadium, the National Museum and Cardiff Castle, all sitting alongside luxury hotels, shopping malls, restaurants and cafes. Now you can tour this amazing city and all its famous locations with the new Cardiff Monopoly! From the much-loved 'Chippy Alley' to the Wales Millennium Centre, it's all up for grabs as you race around the board building a property empire to beat your opponents!"
Gallery
Ad blocker interference detected!
Wikia is a free-to-use site that makes money from advertising. We have a modified experience for viewers using ad blockers

Wikia is not accessible if you've made further modifications. Remove the custom ad blocker rule(s) and the page will load as expected.