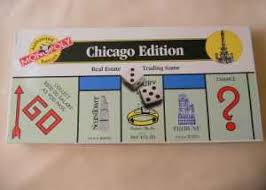 Monopoly: Chicago Edition, is a licensed variant on the classic boardgame published in 1995 by USAopoly featuring streets and locations in the city of Chicago, Illinois.
Publisher's Description
"All the fun and excitement of Parker Brothers classic real estate trading game is here in this Chicago Edition. Buy railroads, utility companies, and properties of all types - including the valuable Sears Tower and John Hancock Center. Increase the value of your properties by adding houses and hotels. Amass the greatest fortune in money and property and you're the winner!"
Gallery
Ad blocker interference detected!
Wikia is a free-to-use site that makes money from advertising. We have a modified experience for viewers using ad blockers

Wikia is not accessible if you've made further modifications. Remove the custom ad blocker rule(s) and the page will load as expected.