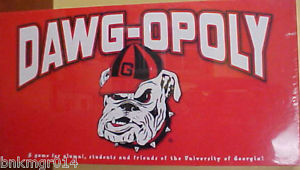 Dawgopoly is a college-themed version of the classic boardgame first published in 1987 by Late for the Sky, featuring the University of Georgia and their Georgia Bulldogs (aka "Dawgs").
Publisher's Description
"This Dawgopoly board game is perfect for Georgia alumni, students and future grads! Game includes Alarm Clock, Pencil, Gym Shoe, Bicycle and Graduation Cap tokens as well as popular campus and off-campus locations for board spaces such as Academic Building, Stegeman Hall, Uptown Lounge, The Varsity, The Arch and Baxter Street. Also includes relevant contingency cards."
Gallery
Ad blocker interference detected!
Wikia is a free-to-use site that makes money from advertising. We have a modified experience for viewers using ad blockers

Wikia is not accessible if you've made further modifications. Remove the custom ad blocker rule(s) and the page will load as expected.