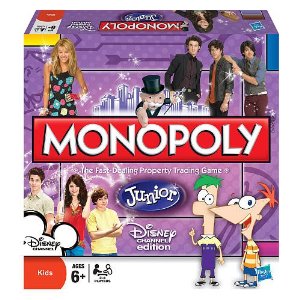 Monopoly Junior: Disney Channel Edition is a simplified version of the classic boardgame published by Hasbro in 2007 featuring the programming of the Disney Channel.
Publisher's Description
"Monopoly Junior, Disney Channel Edition is a remake of the original Monopoly game with a new, fun theme. Choose your favorite Disney Channel character and race around the gameboard buying properties as you go. Did you buy The Suite Life with Zack and Cody or Kim Possible? Maybe you bought Jump In! or The Cheetah Girls. If someone lands on a property you own, they'll have to pay you! But watch out for Ms. Darbus and Dr. Drakken. Land on them and you'll have to pay. Collect the most money by the end of the game and you win!"
Ad blocker interference detected!
Wikia is a free-to-use site that makes money from advertising. We have a modified experience for viewers using ad blockers

Wikia is not accessible if you've made further modifications. Remove the custom ad blocker rule(s) and the page will load as expected.