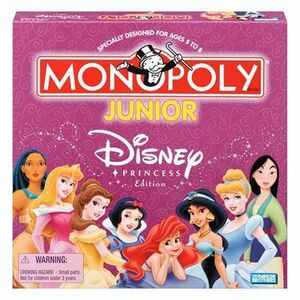 Monopoly Junior: Disney Princess Edition is a simplified version of the classic boardgame published by Hasbro in 2004.
Publisher's Description
"In this version of Monopoly Junior players assume the roles of Disney princesses. Choose from Ariel, Pocahontas, Snow White, Belle, Cinderella, Jasmine, Sleeping Beauty, and Mulan. Buy a home, build a castle on it and charge the other players rent to land there. Be be careful not to run into Maleficent or Ursula, or you'll have to pay! Collect the most money by the end of the game to win."
Gallery
Ad blocker interference detected!
Wikia is a free-to-use site that makes money from advertising. We have a modified experience for viewers using ad blockers

Wikia is not accessible if you've made further modifications. Remove the custom ad blocker rule(s) and the page will load as expected.