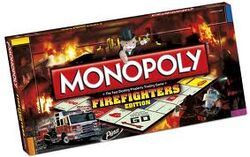 Monopoly: Firefighters Edition is a version of the classic boardgame published by USAopoly in 2009 as part of their Emergency Services Series.
Publisher's Description
"It's a five-alarm emergency on the special Firefighters Edition of Monopoly, honoring the men and women of the fire and rescue service worldwide."
"As you buy, sell and trade your favorite properties, you'll need to summon all of your fire and rescue skills to take command of the firehouses and headquarters on the board. If you succeed, not only will lives be saved and heroism rewarded, but you'll get an instant promotion to Fire Chief... until the next game anyway!"
Gallery
Ad blocker interference detected!
Wikia is a free-to-use site that makes money from advertising. We have a modified experience for viewers using ad blockers

Wikia is not accessible if you've made further modifications. Remove the custom ad blocker rule(s) and the page will load as expected.