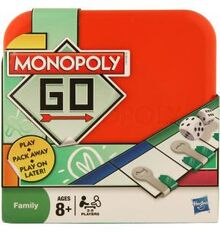 Monopoly Go Pause and Play Edition, or better known as Monopoly Go, is a travel edition of Monopoly, published by Hasbro in 2008.
Description
It´s basically a portable Monopoly, with a small board and clips which are used to record the positions of the houses, locations, money, and properties of each player before saving.
Equipment
Gallery
Ad blocker interference detected!
Wikia is a free-to-use site that makes money from advertising. We have a modified experience for viewers using ad blockers

Wikia is not accessible if you've made further modifications. Remove the custom ad blocker rule(s) and the page will load as expected.