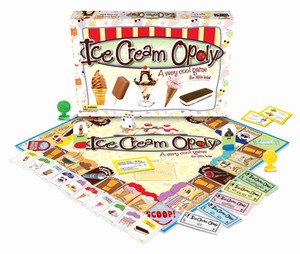 Ice Cream Opoly is a simplified kid's edition of the full-feature Ice Cream-opoly, both published by Late for the Sky.
Publisher's Description
"I SCREAM, YOU SCREAM, WE ALL SCREAM FOR...ICE CREAM!"
"THIS IS SO COOL!"
"Players… get ready to collect the Ice Cream Treats of your dreams! Ice Cream-Opoly lets you buy, sell and trade-in sweet stuff. When another player lands on your space, yell "I Scream, You Scream, We all Scream for Ice Cream!" and collect the number of Dips shown on the bottom of your space. While you're playing, turn over the deeds and learn all kinds of ice cream fun facts."
"So choose your token and advance to SCOOP! It's gonna be all fun and games until someone gets Brain Freeze!"
Gallery
Ad blocker interference detected!
Wikia is a free-to-use site that makes money from advertising. We have a modified experience for viewers using ad blockers

Wikia is not accessible if you've made further modifications. Remove the custom ad blocker rule(s) and the page will load as expected.