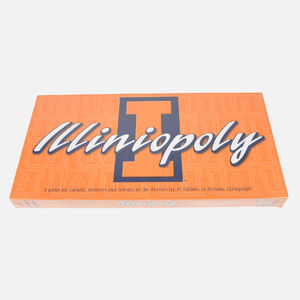 Illiniopoly is a college-themed version of the classic boardgame published by Late for the Sky and featuring the "Fighting Illini" of the University of Illinois.
Publisher's Description
"A GAME FOR THE FIGHTING ILLINI!"
"Choose your token and advance to Register and Proceed. You're about to buy, sell and trade the University of Illinois! Imagine owning Memorial Stadium, Illini Union, Papa Del's, and Green Street in this game created just for alumni, students and friends of Illinois."
Gallery
Ad blocker interference detected!
Wikia is a free-to-use site that makes money from advertising. We have a modified experience for viewers using ad blockers

Wikia is not accessible if you've made further modifications. Remove the custom ad blocker rule(s) and the page will load as expected.