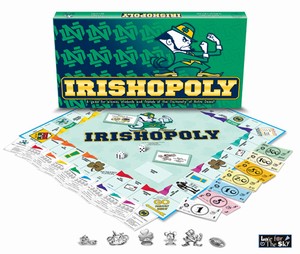 Irishopoly is a version of the classic boardgame first published in 1986 by Late for the Sky featuring the University of Notre Dame (The Fightin' Irish).
Publisher's Description
"The Notre Dame Irishopoly Board Game is a fun gift for Notre Dame alumni, students and future grads. The board spaces feature images of landmarks at the university, and the player pieces are customized to reflect different aspects of student life. The unique board spaces of this classic Notre Dame board game include The Golden Dome, Notre Dame Stadium, Law School, Fighting Irish Band, The Huddle, St. Michael's Laundry and St Joseph's Lake. The player tokens include an alarm clock, a pencil, a gym shoe, a bicycle and a graduation cap."
Gallery
Ad blocker interference detected!
Wikia is a free-to-use site that makes money from advertising. We have a modified experience for viewers using ad blockers

Wikia is not accessible if you've made further modifications. Remove the custom ad blocker rule(s) and the page will load as expected.