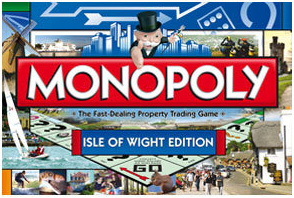 Monopoly: Isle Of Wight Edition is a version of the classic boardgame featuring the Isle of Wight in the UK, published by Winning Moves Games.
Publisher's Description
"The beautiful and historic Isle of Wight finds its home in this new edition of Monopoly! The classic board game moves away from the famous streets of London, Mayfair and all, and onto the sites and attractions of the gorgeous island. So look at the board, choose your favourite and win Isle of Wight Monopoly!"
Gallery
Ad blocker interference detected!
Wikia is a free-to-use site that makes money from advertising. We have a modified experience for viewers using ad blockers

Wikia is not accessible if you've made further modifications. Remove the custom ad blocker rule(s) and the page will load as expected.