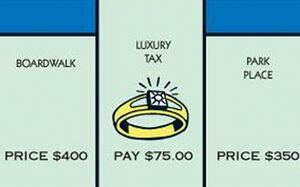 Luxury Tax is a space on the Monopoly Board nestled between Park Place and Boardwalk. Players who land on it must pay $75 to the Bank. After September 2008, the Luxury Tax in the US Edition is $100.
House Rules
Some house rules have the player place the paid tax in the center of the board for collection upon landing on Free Parking.
Variants
This space has many variations:
In the UK Edition, Luxury Tax is changed into the ₤100 Super Tax space. At least one version (The 2000 Mac CD version), you can customize Luxury Tax to be $0, $75, $150, or $300.
Ad blocker interference detected!
Wikia is a free-to-use site that makes money from advertising. We have a modified experience for viewers using ad blockers

Wikia is not accessible if you've made further modifications. Remove the custom ad blocker rule(s) and the page will load as expected.