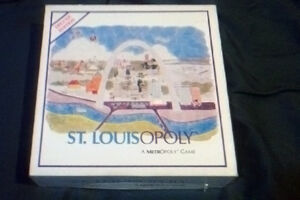 MetrOpoly is the trademarked brand name of a series of games released by H G I Marketing Services, Inc. located in El Cajon, CA.
The games are very similar to Monopoly, and were based in various cities, including Atlanta and St. Louis.
The games themselves are virtually identical; the only differences being the name, artwork and the names of the properties (businesses and city landmarks).  
The instructions and box description are identical as well, save for the name of the particular game at the top.  Generic phrases such as "our fine community" "the area" and "this community" are used, so the boilerplate could be made to apply to any city.
Since the games were made by a "Marketing Service" and not a game company, and since the logos of the local businesses and landmarks were placed on every space, even non-property spaces, like their "START" space (which is not on a corner), "Gamble" and "Fortune" spaces, and even the money - it is possible that these were more advertising promotional pieces than actual games.
Ad blocker interference detected!
Wikia is a free-to-use site that makes money from advertising. We have a modified experience for viewers using ad blockers

Wikia is not accessible if you've made further modifications. Remove the custom ad blocker rule(s) and the page will load as expected.