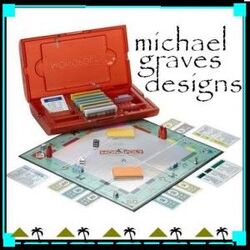 Monopoly: Michael Grave Design Edition was produced by Parker Brothers in 2002.  It was redesigned by architect and domestic products designer Michael Graves. The result is a slick ultra-modern look that mirrors Mr. Graves' other products.  The game packs away in an organized hard plastic case, which slides into a rubber sleeve with a handle for easy carry.
Includes
12 Rubber Hotels
32 RubberHouses
6 Pewter Tokens

Desk clock
Desk lamp
Suitcase
Teapot
Blender
Toaster

Prismatic Game Board
Thin, smaller-than-standard, semi-transparent money
Plastic storage case
Rubber Carry Sleeve
Game Play
The Game Play is identical to traditional Monopoly games, with the only exception being that only 6 people can play at a time, since there are only 6 tokens.
Ages 8 and up
2 - 6 players
Gallery
Ad blocker interference detected!
Wikia is a free-to-use site that makes money from advertising. We have a modified experience for viewers using ad blockers

Wikia is not accessible if you've made further modifications. Remove the custom ad blocker rule(s) and the page will load as expected.