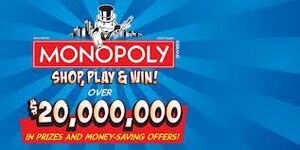 Monopoly: Collect & Win is a Monopoly-inspired sweepstakes organized and promoted by the Albertsons Market chain. As of 2016, due to the merger between Albertsons and Safeway, Safeway stores have also joined the promotion.
Much like the McDonald's Monopoly sweepstakes and the Monopoly Millionaire's Club lottery game, it is NOT a board game edition nor a board game variant, nor does it involve any parts of the board game itself (i.e. properties, railroads, or utilities).
Game play
Game play involves a game board, much like the McDonald's game. However, as stated above, game pieces do not involve any parts of the game itself. Instead, each game ticket contains a coupon for a discount, instant win prize (either a free product, free RedBox rental, or two bonus game tickets), or a code for which to play the online game (see link below), and four game pieces for which players paste on the board. Like the McDonald's game, if all pieces for that particular prize are collected, the prize is won. The top prizes include $1 million cash and a $500,000 vacation home.
Unlike the McDonald's game, there is also a game for employees, who get a separate game board and tickets; top prizes include $100,000 cash and a $50,000 vacation home.
Gallery
External links
Ad blocker interference detected!
Wikia is a free-to-use site that makes money from advertising. We have a modified experience for viewers using ad blockers

Wikia is not accessible if you've made further modifications. Remove the custom ad blocker rule(s) and the page will load as expected.