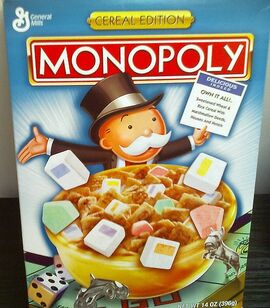 In April 2003, General Mills produced a Monopoly-themed breakfast cereal. The cereal was similar to Cinnamon Toast Crunch, another GM cereal, but with tokens printed on the squares and featured marshmallows shaped like deeds, houses, and hotels.
Gallery
Ad blocker interference detected!
Wikia is a free-to-use site that makes money from advertising. We have a modified experience for viewers using ad blockers

Wikia is not accessible if you've made further modifications. Remove the custom ad blocker rule(s) and the page will load as expected.