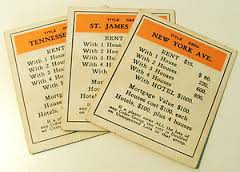 A monopoly (lower case "m") is when a player owns all of the properties of one color. When a monopoly is owned, the owning player can build houses or hotels on it and, if unimproved, receive double rent from it. Houses and Hotels are used to improve the rent of a property. Houses and hotels can only be erected if a complete monopoly is owned.
List of Monopolies (UK)
List of Monopolies (US)
Other Properties
Train Stations (King's Cross Station / Reading Railroad, Marylebone Station / Pennsylvania Railroad, Fenchurch St Station / B. & O. Railroad and Liverpool Street Station / Short Line) and Utilities (Electric Company and Water Works) are not color group monopolies as defined herein and Houses/Hotels cannot be erected on them. However, they are like monopolies in that you can collect more than one of each and rent is higher when more than one is owned.
Train Depots could be built on Railroads in the Mega Edition for $100, but not in the standard US or UK versions.
Ad blocker interference detected!
Wikia is a free-to-use site that makes money from advertising. We have a modified experience for viewers using ad blockers

Wikia is not accessible if you've made further modifications. Remove the custom ad blocker rule(s) and the page will load as expected.