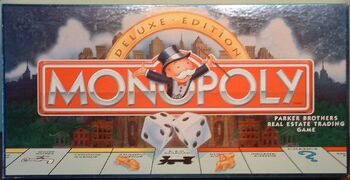 Monopoly Deluxe Edition was released in 1995 as the 60th anniversary edition of the Monopoly board game. Monopoly Deluxe Edition has some visual improvements over the original Monopoly board game, as well as some additional tokens. The box, board, and pieces are much more detailed and colorful. There is a spinning holder for title deed cards. Money is held in a fancy holder. It is an upgraded version of the classic Monopoly board game. Gameplay is the same as the original Monopoly game. The game features wooden houses and hotels and gold-tone tokens.
Gallery
Ad blocker interference detected!
Wikia is a free-to-use site that makes money from advertising. We have a modified experience for viewers using ad blockers

Wikia is not accessible if you've made further modifications. Remove the custom ad blocker rule(s) and the page will load as expected.