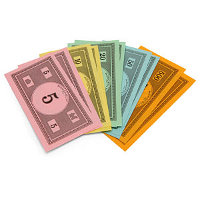 This article is about the concept and use of money in the game rules. For information on the actual medium of exchange, see: Dollar
Money is what players use to buy properties, construct buildings, and pay rents, fines, or taxes.
Properties can be Mortgaged in order to borrow money from The Bank.
History of money
The distribution of cash in the U.S. version has changed with the newer release versions. Older versions had a total of $15,140 in the following amounts/colors:
20 $500 Bills (orange)
20 $100 Bills (beige)
30 $50 Bills (blue)
50 $20 Bills (green)
40 $10 Bills (yellow)
40 $5 Bills (pink)
40 $1 Bills (white)
The newer (Sept. 2008) editions have a total of $20,580, with 30 of each bill denomination. In addition, the colors of some of the bills have been changed; $10 notes are now blue instead of yellow, $20 notes are a brighter color green than before, and $50 notes are now purple instead of blue.
Each player begins the game with his or her token on the Go square, and $1500 (or 1500 of a localized currency) in play money. Prior to Sept. 2008, the money was divided as follows in the U.S. standard rules:
Two each of:

$500 bills
$100 bills
$50 bills

Six $20 bills
Five each of:

$10 bills
$5 bills
$1 bills
Since then, the US version has taken on the British version's initial cash distributions of:
Two x $500
Four x $100
One x $50
One x $20
Two x $10
One x $5
Five x $1
Ad blocker interference detected!
Wikia is a free-to-use site that makes money from advertising. We have a modified experience for viewers using ad blockers

Wikia is not accessible if you've made further modifications. Remove the custom ad blocker rule(s) and the page will load as expected.