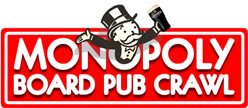 The Monopoly Board Pub Crawl is a well-known UK variation on a popular drinking game. The rules are to visit each of the streets featured on the standard UK Monopoly board and have a drink at a public house or bar on each street in a single night; they can be completed in the order the game squares appear, or re-arranged for easier movement, although the latter is usually easier and is therefore not as well-regarded.
London
London, England is commonly the site of the Monopoly Pub Crawl, using streets featured on UK version, which has 26 London streets on it.
External Links
Ad blocker interference detected!
Wikia is a free-to-use site that makes money from advertising. We have a modified experience for viewers using ad blockers

Wikia is not accessible if you've made further modifications. Remove the custom ad blocker rule(s) and the page will load as expected.