The My National Parks Edition of the classic Monopoly boardgame features some of the most beautiful and historic sites in the USA, as well as some of the most iconic American Wildlife, ranging from the grizzly bear to the bald eagle.
Not to be confused with the America's National Parks Edition or the National Parks Edition.
Like all My Monopoly variants, this set features over 100 reusable stickers that can be used to customize the board in over one million possible combinations.
Description
Tokens

Game includes six Tokens:
Ranger Hat
Bicycle
Canoe
Bison
Statue of Liberty
Cannon
Board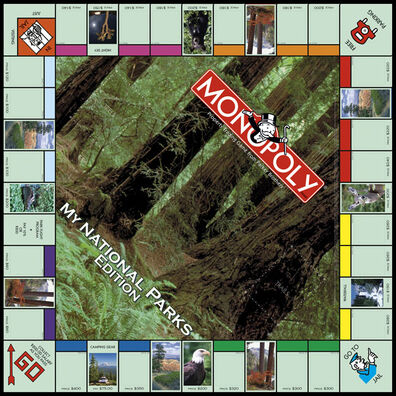 Ad blocker interference detected!
Wikia is a free-to-use site that makes money from advertising. We have a modified experience for viewers using ad blockers

Wikia is not accessible if you've made further modifications. Remove the custom ad blocker rule(s) and the page will load as expected.