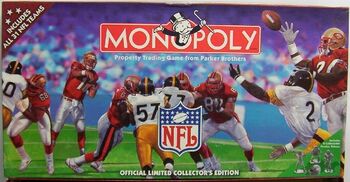 Monopoly: NFL Official Limited Collector's Edition is an american-football-inspired fully licensed version of the classic boardgame first published by Hasbro in 1998, with additional editions in 1999 and 2003, with minor differences based on contemporary NFL Team rosters.
It features high-quality distinctive pewter tokens and football-shaped dice.
Gallery
Ad blocker interference detected!
Wikia is a free-to-use site that makes money from advertising. We have a modified experience for viewers using ad blockers

Wikia is not accessible if you've made further modifications. Remove the custom ad blocker rule(s) and the page will load as expected.