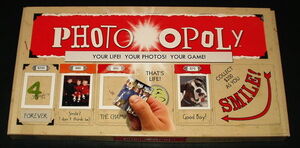 Photo-opoly is a customizable version of the classic board game,Monopoly, published by Late for the Sky in 2006.
Publisher's Description
"No one takes a picture of something they want to forget! Make a game that is unforgettable! Where are your photos anyway? Photo albums? Stored on the memory card of your digital camera? Stuffed in shoe boxes under the bed?"
"CALLING ALL PHOTOS! COME OUT AND PLAY! Choose 22 favorite photos and create a game for: A BIRTHDAY, A FAMILY REUNION, A WEDDING, A PARTY, A BABY SHOWER, AN ANNIVERSARY, ANY CELEBRATION, ANY EVENT. You don't even really need an occasion!"
"Maybe you've just always wanted to make your own game! Materials and instructions included for creating your game in many different ways."
Gallery
Ad blocker interference detected!
Wikia is a free-to-use site that makes money from advertising. We have a modified experience for viewers using ad blockers

Wikia is not accessible if you've made further modifications. Remove the custom ad blocker rule(s) and the page will load as expected.