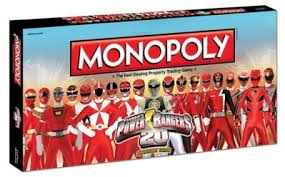 Power Rangers 20th Anniversary Edition Monopoly is an Power Rangers-themed edition of the classic Monopoly board game published by USAopoly in 2013. This was made to coincide the 20th anniversary of Power Rangers.
Publisher's Description
"It's Morphing Time!"
"Morph into the Power Rangers universe in this special Power Rangers 20th Anniversary edition of MONOPOLY. Iconic locations spanning the 20 year legacy are up for grabs as players power up to buy, sell and trade Gosei's Command Center, Rita Repulsa's Palace and more. Be a force to be reckoned with by improving your properties with Zords and Megazords in your battle to protect the world."
Gallery
Ad blocker interference detected!
Wikia is a free-to-use site that makes money from advertising. We have a modified experience for viewers using ad blockers

Wikia is not accessible if you've made further modifications. Remove the custom ad blocker rule(s) and the page will load as expected.