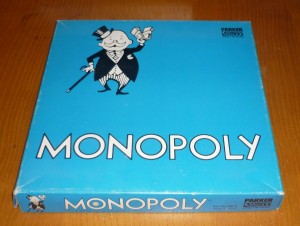 The Monopoly: "Spanish Square Edition" is an edition first released in 1961 by Juguetes Borrás-Mataró under license by Parker Brothers, using the UK Waddingtons version as a model and the streets of Madrid (red box) or Barcelona (blue box) for spaces.
Money is specified to be in pesetas in earlier editions, but later transitions to non-specific "precio" (price). Regardless, notes are printed in 100, 500, 1.000, 5.000, 10.000 and 50.000 denominations.
These editions were last published in 1993.
It should be noted that the game's title is simply "Monopoly". "Spanish square edition" is simply an unofficial descriptor given by collectors.
Gallery
Ad blocker interference detected!
Wikia is a free-to-use site that makes money from advertising. We have a modified experience for viewers using ad blockers

Wikia is not accessible if you've made further modifications. Remove the custom ad blocker rule(s) and the page will load as expected.