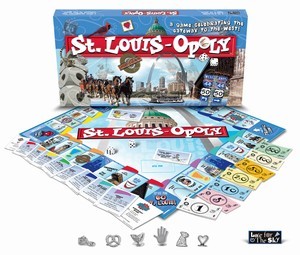 St. Louis-opoly is a Late for the Sky game centered in the city of St. Louis, Missouri, USA.
It was originally published in 1998 as St. Louis in-a-box. Several editions have been published, including a version under the name "St Louis Opoly" (with no period after the St and no dash before the opoly).
Publisher's Description
"A board game about the GREAT city of St. Louis!"
"We chose some favorite landmarks and traditions, mixed in some Clydesdales, custard, bridges, riverboats, a great big arch, and some BIG FUN..."
"...and voilà -behold; ST.LOUIS-OPOLY!"
Gallery
Other St. Louis Editions
Ad blocker interference detected!
Wikia is a free-to-use site that makes money from advertising. We have a modified experience for viewers using ad blockers

Wikia is not accessible if you've made further modifications. Remove the custom ad blocker rule(s) and the page will load as expected.