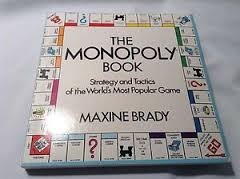 The Monopoly Book: Strategy and Tactics of the World's Most Popular Game by Maxine Brady is one of the earliest books dedicated solely to the game of Monopoly.  It is a good resource for history and game play.
Hardcover: 144 pages
Publisher: D. McKay Co (1974)
Language: English
ISBN-10: 0679202927
ISBN-13: 978-0679202929
The Book
The book is divided into four sections:
Monopolia Curiosa
Understanding the rules
Strategy and Tactics
Epilogue: How to deal with Tantrums
While Maxine Brady's interpretation of some the rules in section 2 is questionable, her explanations would probably be helpful to a new player.  Even though there are some errors in the book, it has a wealth of research that would be interesting to any Monopoly enthusiast.
Ad blocker interference detected!
Wikia is a free-to-use site that makes money from advertising. We have a modified experience for viewers using ad blockers

Wikia is not accessible if you've made further modifications. Remove the custom ad blocker rule(s) and the page will load as expected.