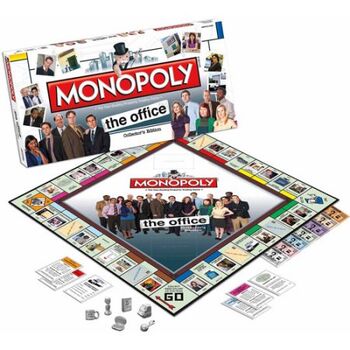 Monopoly: The Office Collector's Edition is a version of the classic boardgame published by USAopoly featuring the popular TV show The Office.
Publisher's Description
"Join Jim, Pam, Michael, Dwight and all the rest of your favorite characters for Monopoly The Office Edition. This version of the classic game takes you to Scranton to collect property from the beloved show, The Office. This Monopoly Game includes hilarious collectible tokens like a Dwight bobblehead, the bacon grill, Pam's candy dish, Michael's Best Boss mug, Princess Unicorn and a beet from Schrute Farms. Join your friends as you try to get the most valuable property and have all the money when the game ends."
Ad blocker interference detected!
Wikia is a free-to-use site that makes money from advertising. We have a modified experience for viewers using ad blockers

Wikia is not accessible if you've made further modifications. Remove the custom ad blocker rule(s) and the page will load as expected.