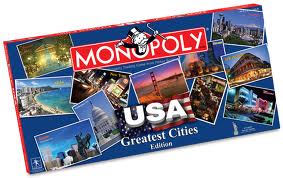 Monopoly: U.S.A. Greatest Cities Edition is a US-oriented version of the classic boardgame published by USAopoly in 2005.
Publisher's Description
"America's favorite board game brings you the chance of a lifetime to buy, sell, and trade USA's greatest cities from the East to the West coast. Celebrate life, liberty, the pursuit of happiness and… capitalism as you wheel and deal San Diego, Honolulu, Miami and more. Amass wealth and increase your net worth by creating USA vacation destination monopolies. Includes six collectible pewter tokens: Apple Pie, Mount Rushmore, Capitol Building, Liberty Bell, Bald Eagle & Statue of Liberty."
Gallery
Ad blocker interference detected!
Wikia is a free-to-use site that makes money from advertising. We have a modified experience for viewers using ad blockers

Wikia is not accessible if you've made further modifications. Remove the custom ad blocker rule(s) and the page will load as expected.