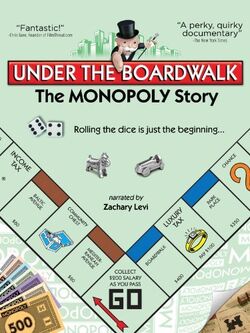 Under the Boardwalk is a 2010 feature-length documentary film that captures stories of how the game of MONOPOLY has become a worldwide phenomenon. It features footage of the 2009 U.S. and World MONOPOLY Championships as well as interviews and profiles of some of the top competitors from around the world. Also included are insights from published MONOPOLY expert Phil Orbanes, vignettes of MONOPOLY fanatics and collectors worldwide and interviews with celebrities who love to play MONOPOLY.
External Links
Ad blocker interference detected!
Wikia is a free-to-use site that makes money from advertising. We have a modified experience for viewers using ad blockers

Wikia is not accessible if you've made further modifications. Remove the custom ad blocker rule(s) and the page will load as expected.