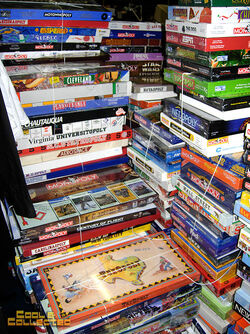 In the United States, United Kingdom and elsewhere, there are (seemingly) infinite variations of the basic Monopoly game.
There are officially licensed versions that carry the Monopoly logo, usually licensed by companies like USAopoly.
There are also many variants that use the same idea of Monopoly, right down to board design, but do not carry the official logo. Late For The Sky is one such company which has made a number of these versions.
There is also a variation where you can customize the game board and money to your desires, called Make Your Own -OPOLY.
To see what variants are known to exist, visit the List of Monopoly Games (Board) page.
Ad blocker interference detected!
Wikia is a free-to-use site that makes money from advertising. We have a modified experience for viewers using ad blockers

Wikia is not accessible if you've made further modifications. Remove the custom ad blocker rule(s) and the page will load as expected.