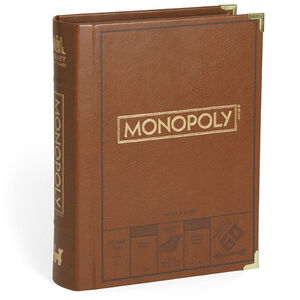 The Monopoly: Vintage Book Edition is one in a series of classic Parker Brothers games published by Hasbro in a compact book-shaped box that can be conveniently placed in a bookshelf. There have been several Bookshelf Editions of Monopoly published over the years.
Publisher's Description
"Bring back nostalgic memories when you play this vintage version of Monopoly. The game uses the original rules and comes with a retro-looking game board and game components. The wooden storage box can be placed on a bookshelf when the game is not in use."
Gallery
Ad blocker interference detected!
Wikia is a free-to-use site that makes money from advertising. We have a modified experience for viewers using ad blockers

Wikia is not accessible if you've made further modifications. Remove the custom ad blocker rule(s) and the page will load as expected.