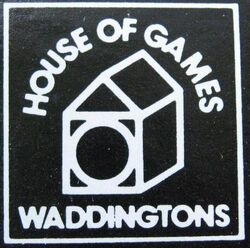 Waddingtons was a UK publisher of card and board games operating between 1922 and 1994, when the company was bought by Hasbro. Founded by John Waddington and Wilson Barratt, the company was originally called Waddingtons Limited and its name changed several times, including to Waddington's House of Games in the 1970s.
Waddingtons was arguably Europe's best game manufacturer, producing classic board games such as Cluedo, Formula 1, Buccaneer, Totopoly and, of course, Monopoly. Waddingtons playing cards are also highly collectable.
Source
dicemaestro.com (Oct 2012)
Ad blocker interference detected!
Wikia is a free-to-use site that makes money from advertising. We have a modified experience for viewers using ad blockers

Wikia is not accessible if you've made further modifications. Remove the custom ad blocker rule(s) and the page will load as expected.