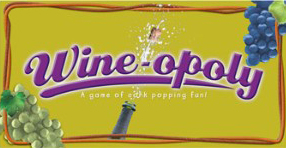 The Wine-opoly edition of the classic Monopoly boardgame was first published in 2003 by Late for the Sky and is all about wine. At least two alternative artwork versions have been published since with identical gameplay, but different art.
Description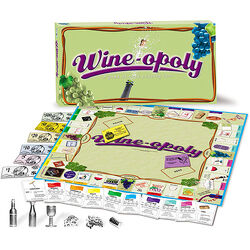 "Pop the cork off any gathering with WINEOPOLY! Players buy favorite wines, collect bunches of grapes and trade them in for decanters. Sounds easy enough but add Import Taxes and serving faux pas and it becomes a little more difficult and a lot more fun! Learn while you play! Each deed back contains wine descriptors and fun facts about each wine. It's all fun and games until you're sent to the Wine Cellar to age-then you're out of the game for three turns. So choose your token (wine bottle, cork, wine glass, cheese, grapes, or a carafe) and advance to CHEERS! Who knows? You may be elected president of the wine club or you may be penalized for serving obtrusively malodorous cheese!"
Gallery
Ad blocker interference detected!
Wikia is a free-to-use site that makes money from advertising. We have a modified experience for viewers using ad blockers

Wikia is not accessible if you've made further modifications. Remove the custom ad blocker rule(s) and the page will load as expected.